History
Bellingen Urban Landcare was established in 1995 when we commenced work on a section of Cemetery Creek that runs through Bellingen Park (where the monthly markets are held). Since then our work has gown to include a number of new sites along Cemetery Creek as well as areas along Caratti and Ringwood Creeks and the Western End of Bellingen Island.
How we work
After tagging any native seedlings and removing invasive weeds, we plant local species of grasses, shrubs and trees. Planting is only the beginning of a long association with each new site as we need to continue to maintain each area until a canopy is sufficiently established. This protects smaller plants and provides the shade that keeps weeds at bay. Growth of the canopy takes around five years but we need to undertake periodical weed control even after this time.
Generally we avoid the use of herbicides. With the dangers posed by weeds such as Madeira Vine, however, we introduced a policy that restricted herbicide use to selected weed species. No herbicides are used at working bees.
Members
Since 1995 hundreds of Bellingen residents have worked on our sites. Volunteers are energized and inspired when they see weed and rubbish infested sites transformed into native bushland. This keeps many of us coming back year after year.
The value of our members work is reflected in the fact that total volunteer labour inputs over the years represents many hundreds of thousands of dollars.
Committee
Administrative matters are taken care of by a small but dedicated committee, which meets monthly.
The committee is vital to the proper planning and oversight of all of our activities, particularly the preparation and management of government grants that also support our work.
Our Chair is Liz Brown.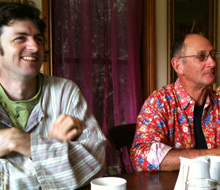 Project Manager
When funding permits we contract a part-time project manager. This person plays a key role in co-ordinating work behind the scenes, organising working bees, contractors and community events as well as maintaining communications with our many partners and community networks.
Partners
Working in collaboration with other groups is central to our approach. See more details about our partners →
Contractors
We engage various contractors at different times for bush regeneration, brushcutting, tree lopping and other related tasks. If you'd like to be considered as a contractor for us you'll need to submit your details to our Contractors Register.