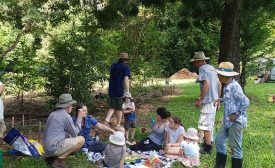 BULC will be holding a working bee this Sunday from 9am – 12pm at the Market Park. Come along and see the incredible work our volunteers have done over the past 20 years at turning the park back into a rainforest oasis bustling with life!
Yes it is Australia Day – but we will celebrate with lamingtons and iced vovos at morning tea time- so come and join us if you can.
We will be weeding in the areas we planted out last March. Most of the natives we planted are doing really well, especially after the recent rain.
The bad news is that means the weeds are too, but the good news is that the soft ground makes it easier to pull them out.
We will be meeting at the new bridge (just north of the toilet block) in Market Park. 9am – 12. No need to bring tools.
If you have any questions, please call Liz Brown on 0405 667 441.