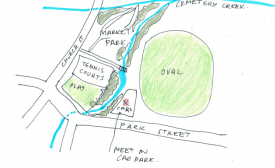 Join BULC on Sunday 22nd July to give Bellingen's beloved market park some love.
The first BULC site – started in 1995 – Market Park has been transformed from a rubbish and weed infested gully into a beautiful backdrop for the monthly markets.
In 2003 a planting was done with Bellingen Rural Australians for Refugees. There are a number of bridges that cross the creek in Market Park. In 2007 a new bridge was built by a Green Corps team working with us.
Learn about local rainforest plants, local weeds and how to control them from the experts whilst having some fun… and feel even better on your Sunday afternoon! Morning tea provided. For more information contact Liz on 0405 667 441.
Meet in the car park on Park St, 9am Sunday 22nd!