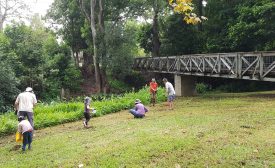 If you've ever thought of helping out by joining the BULC Committee – now would be a great time! We are seeking more general committee members and holding our AGM on Thursday 8th February.
The committee has lost some key people over the last few years and we'd love your help in order to rebuild and…. well… keep doing the great things we do!
"I love being involved in BULC. As I walk around Bellingen, I get to take pride in watching our new plantings grow and knowing that our creeks are as beautiful as they are because of the work of a group I'm involved in. That's a great feeling. Being a committee member doesn't take much from me, but is so important to keeping BULC going!"

– Jane Grant, Treasurer 2015 – 2018
The committee generally only meets every 2 months for 1-2 hours. It's not a long time, but it's vital work to help us bring in new funding, plan on-ground works and associated cake requirements.
No previous experience necessary, and it can often be good to have people from a variety of backgrounds.
The AGM is on
Thursday 8th February at Bellingen Brewery from 6pm
. Nibbles provided.
Come and join us to hear more about the group and how you can help.
Hope to see ya there, 
BULC Committee