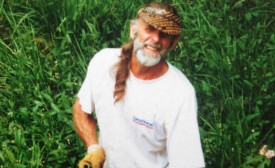 It is with great sadness that we report the passing of the legendary David Wrathall.
David was a huge part of Bellingen Urban Landcare in its early days, helping form the group, serving as BULC's first secretary, running working bees and inspiring everyone around him.
A memorial planting will be held on Sunday June 22 2014 at The Point (9am).
I did work a lot of Landcare work with David. David led the midweek working bees at O'Sullivan's Park as well as attending the Sunday gigs. We did a lot of work there near David and Uzi's home in Watson Street. It is now self maintaining with most of the nasty weeds gone.
Paul Tipper