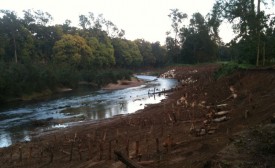 During the huge floods of 2009 the riverbank adjacent to our site at the Western End of Bellingen Island copped a hiding, with huge chunks of riverbank disappearing each time the river came up.
A long-mooted plan for revetment works on the riverbank came to fruition with the funding from Bellingen Shire Council and the Our Living Coast project.
Hundreds of timber groins were inserted into the bank, tied together with wire and pinned in place by interlocking fallen trees and large boulders.
Here's some photos of the work as it happened. Fingers crossed…